December 14th 2017 10:25 am | by Svetlana Pantelic | Posted in Blog
There are four possible birthstones of December: tanzanite, zircon, blue topaz and turquoise – all of them, best known for beautiful shades of blue. Tanzanite is the most recently discovered gem, so it is the least known.
The mineral zoisite is quite common reddish-brown stone found throughout the world, but blue zoisite or Tanzanite is extremely rare. It is 1000 times rarer than diamonds. Tanzanite is a gem born in Africa – just as Africa was the birthplace of all diamonds.
Discovery
The tale of discovery and success of Tanzanite unites unlikely personages; the Maasai tribe of Tanzania, an Indian tailor and the president of Tiffany's in New York.
Legend says that it is Maasai cattle herders that first noticed this stone during 1960s. Lightening caused fire that burned areas in Tanzania. The herders noticed that fire had heated the brown zoisite crystals and given them their characteristic blue purple color. The other story is that they put a fire, which was burning all night, to ward off cold and wild animals.
It was the Maasai tribesman Ali Juuyawatu who first shared his blue-violet crystal with Manuel de Souza, an Indian tailor  who happened to be in the region in search of Rubies. Eventually, some natives took him to an area in the region of the Merelani Hills near Mount Kilimanjaro. There, he found these precious blue stones. At first, he thought the stones were unusually vibrant Sapphires, but it was soon confirmed that the new gemstones were more complex than a Sapphire, with a color more attractive and exotic. Manuel de Souza had no idea that he had encountered a gemstone the world had never seen… one that remained unnamed.
Soon after the news about the new precious stone came out, a murderous attack put a sudden end to exploitation of the mineral. A false car accident, in which de Souza died, interrupted any supplies. As a result, it was unable to keep up with demand during the following two years.
Tanzanite Properties
Tanzanite is the beautiful blue variety of the mineral zoisite. Under extreme heat, the gem changes color, which ranges from pale blue to intense ultramarine with violet undertones.
Tanzanite measures 6.5 to 7 on the Mohs scale of hardness – which is not nearly as hard as the sapphire (9) it often substitutes.
Tanzanite can be found in only one place in the world – in Tanzania in a remote area called Merelani near the foothills of Mount Kilimanjaro.
Success of Tanzanite
After it's discovery, by 1970, the royal blue find was soon the focus of American and European publicity. Tanzanite first became popular commercially when Henry Platt, the great grandson of Louis Comfort Tiffany, founder of the American jewelry manufacturer Tiffany & Co, fell in love with the gem. He became so excited at the prospect of selling it, that he immediately set about creating a marketing campaign around it, when word of the new gemstones got out, Henry Platt of Tiffany and Co. named the new gem "tanzanite" and Tiffany's began a marketing campaign to introduce it to the public. Platt famously called tanzanite "the most important gemstone discovery in over 2000 years. "
Now, tanzanite is the pride of the gem-rich East African country, Tanzania.
Due to its similarity in appearance to sapphires, Tanzanite is getting plenty of attention from jewelers as a "rising star" among colored gems.
Tanzanite maintenance
In order to enjoy its beauty and elegance for a very long time, the correct and careful maintenance and cleaning are needed. Clean jewelry with warm, soapy water. Ultrasonic and steam cleaners are never recommended for tanzanite. Avoid very high temperatures or sudden temperature changes, and impact to the stone.
Unique in every way
Tanzanite has become one of the most intriguing and desirable precious gemstones of modern times. Tanzanite is a geological phenomenon. It is 1000 times rarer than a diamond. Tanzanite jewelry is extremely valuable and wanted, both for the gem's rarity, as well as for its beauty.
The assessment is that within the next 10 years gem-quality tanzanite will no longer be found, only those who are fortunate enough to already own tanzanite now, or in the near future, will be first-time owners of the gem.
There are good reasons for this gem's popularity. It has the characteristics of a precious gem: overall beauty, amazing color, and rarity, just to name a few.
Based on its connection to the Maasai people who regard the blue color as sacred, healing and a representative of new life, Tanzanite is seen as a birthstone regardless of the month, and it celebrates a new life and new beginnings.
The world's largest rough Tanzanite, over 3 kg, was a 16 839-carat stone mined in 2005. It was named The Mawenzi after Kilimanjaro's second highest peak.
The stone in the heart shaped necklace from the movie Titanic, worn by Kate Winslet was a tanzanite.
December's birthstone
In 2002 the American Gem trade association choose Tanzanite as a December's birthstone. This is the first change to their birthstone list since 1912. And it is also a suggested gift for 24th wedding anniversary.
This year tanzanite celebrates its 50th birthday. Tanzanite was discovered in Tanzania in 1967.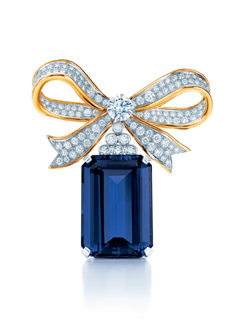 Even though it is found at only one place in the world, you can still easily find the perfect Tanzanite jewelry for yourself or as a gift. Just contact us! Tanzanite is definitely a great choice.