October 22nd 2015 11:21 am | by Gemme Couture | Posted in Blog
Ivana Okereke designer of Gemme Couture talks in First Avenue Magazine about pearls, perfection & panache…
What do Brigitte Bardot, Coco Chanel or Jacky Kennedy and many modern-day stars have in common? They know that Pearls with their beautiful array of colors possess the ability to suit every age and skin color. They also know that Pearls are the most versatile gem. It is a gem that can hold its own as a stunning centerpiece in a piece of jewelry, or be subtle and give just a hint of demure beauty. The lengths of pearl strands can be used to add a dramatic touch or just the right amount of classic elegance.
The Pearl is the queen of gems and the gem of Queens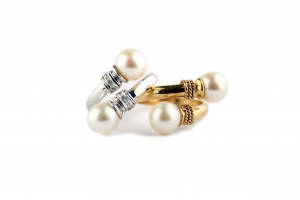 Found in both fresh and saltwater, Pearls are now cultured in both. Natural pearls form in the bodies, or mantle tissue, of certain oyster shells, usually around a -microscopic irritant, for example a grain of sand or tiny chip of shell, and always without human help of any kind. Due to the world's ardor for pearls, natural wild pearls are now very hard to find and high-quality natural pearls are hitting record prices at auctions because of their increasing rarity due to overfishing and pollution. The increased demand for this valuable gem leads to mostly cultured pearls. But how is a cultured pearl made? A tiny natural bead or tissue is inserted inside the oyster to recreate a natural process. To protect itself from the foreign body, the oyster will build up layers of nacre that in time will become a pearl. A jewel warmed by its lustrous glow and the deep expression of its inner light.
Where did this trend for pearls as a fashion must-have come from? The credit must go in part to the designer Alexander McQueen whose 2013 fall/winter collection was fully adorned with Pearls. Thus, the revival was forged! Forbes Magazine states that pearls are no longer relegated to your grandmother's closet; they are coming back into fashion in a big way. And the fashion giants are listing Pearls as one of the Top 12 Accessories Trends for Fall 2015! Pearls were seen on runways of the Fall 2015 shows in New York, London, Milan, and Paris, favored by brands like Chanel, Givenchy or Dolce & Gabbana. And we all remember the stunning Calvin Klein dress worn by Lupita Nyong'o for the Oscars earlier this year. But pearls are not only seen as a new trend in fashion houses but also jewelry brands are adopting their designs to this trend going beyond classic designs and settings to create new designs, pieces for a trendier and more cosmopolitan customer. Pearls have seized the moment!
Pearls are not only seen as a new trend in fashion houses but also jewelry brands
Pearls are historically important to this region, the Dubai based fine jewelry brand Gemme Couture gives them a special place in their designs. This close connection is reflected in the versatility of the pearl pieces, whether they are creations for the classically sophisticated woman or a unique look for the modern fashionista. "Pearls are for every woman! With our designs we are exploring and embracing an edgier, less traditional look. For example, a single Tahitian pearl on a gold chain worn as a choker still looks classy but not old fashioned and a Tahitian pearl on a leather cord looks both bohemian and casually elegant. Both designs can be worn every day and for any occasion. This is the underlying philosophy of Gemme Couture; our jewelry can be worn day and night, alone or stacked with other jewelry," says Ivana Okereke designer of Gemme Couture.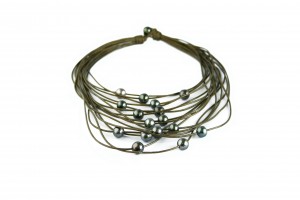 "We don't see a single trend for a particular pearl color…."
Gemme Couture loves to work with all kinds of pearls. Pearls come in various colors depending on their place of origin. The Gulf pearls have a natural lustre and are white, with silver, gold, cream or pink overtones, whereas Tahitian pearls reflect more exotic colors such as green, grey, cherry or -even – black. "We don't see a single trend for a particular pearl color, however, there is a growing interest among our regional and global customers in exotic colored pearls, such as Tahitian and gold South Sea pearls. What makes a difference is the design of the piece and the setting of the pearl; this emphasizes the customer's style", says Ivana Okereke. The designs have undergone a complete change, the preferred settings for the pearls are inspired by tribal styles or favor the big and chunky creations, as seen on the runways, from delicately subtle to enormous.