March 18th 2015 10:05 pm | by Gemme Couture | Posted in Blog
Jaipur in Rajasthan has a centuries old tradition in cutting stones and jewelry production. It is a gorgeous city, in itself an inspiration for any form of art. It is made out of pink clay and the older parts of the city make it seem as if the whole city is pink. The colors of the textiles and artwork are jewel-colored and gem powder (remnants from gem cutting) are used in their paint and decorations. Gems are sold in numerous markets, similar to the gold souk, in trader's offices and homes. I made a connection in New York at one of the gem fairs I used to visit regularly with a gem trader in Jaipur, so I contacted him on my arrival. He was incredibly hospitable and invited us to his home for a traditional Northern-Indian vegetarian lunch. The food was delicious and the family was friendly and welcoming.
We spent hours going through hundreds of strings of gem beads, selecting the best quality stones and the most unique pieces. Rajasthan has been in the stone cutting industry for so long, that they are now the biggest in colored-gem cutting in the world. Stones from all over the world are shipped there to be cut into fine shapes, briolette's, rondell's, pear and heart drops or any made to order shape. This is why it has the biggest variety of gems of anywhere in the world. Not only are all varieties of gems available, from Tanzanite from Tanzania, rubies from India, Sapphires from Sri Lanka, Emeralds from Colombia, labradorite from Labrador, diamonds from Africa and tourmalines and chalcedony from Brazil, but also the rarest forms and colors of these stones, such as blue Paraiba Tourmalines, Sapphires in every color from pink, purple, green, songia yellow etc., in the brightest and clearest specimens. The Art of making jewelry has been passed from generation to generation in its traditional Kundun style in Rajasthan, with gorgeous gems on one side and enamel on the other side of the piece. It is difficult not to get inspired by the gems, the colors and the jewelry in Rajasthan.
When we are unable to go to Jaipur, or in between trips, we buy gems in jewelry and gem fairs, where gems and pearls are brought by merchants from all over the world. We also buy gems online from reputable gem dealers through gem societies, especially when we are looking for a particular stone or something truly special that comes up rarely and is sold by the piece. We also buy pearls from dealers with a vast knowledge about Japanese Akoya pearls, South Sea pearls from Australia, Tahiti pearls from the South Pacific and Chinese fresh water pearls. Once we have the gems, they are an inspiration in themselves. Each stone has its own character and feel. It is no wonder that stones throughout history, have been linked to moods, horoscopes and have been thought to have healing powers and energies that can affect us in some way.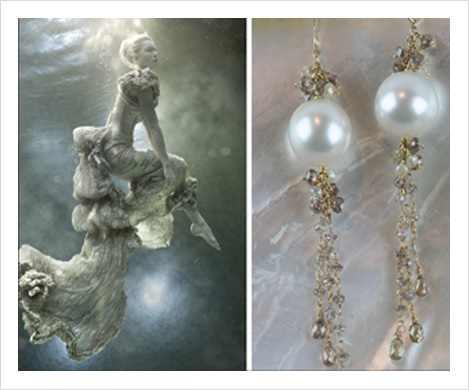 They emanate such different vibes and have varied effects on different people. For us, they inspire us and remind of different things in nature. For instance, some stones, or combination of stones remind us of fruit and inspire us to design jewelry reminiscent of berries or fruits. Others remind us of flowers or plant forms. They may give us associations of the ocean and all the colors and moods of water, or perhaps they may feel like an emotion of love or friendship or hope. We try to create feelings and organic forms in our jewelry that will hopefully inspire others, the way they inspire us. We take many aspects into consideration, we look at the colors, the shapes, the value of the stones and the material used, we consider the season, and the color trends. We also have to consider where and to whom the jewelry will be sold to. Stores often have their particular style and price that needs to be taken into account, while designing bespoke jewelry presents a completely different opportunity.
Here, we design for the individual. We believe that every woman has a story and we try to tell that story through the piece of jewelry that we create for her. We look at the client's taste, color choice, style, lifestyle and desire. We design pieces which are wearable, most can look stunning in an evening dress as well as with a pair of jeans. We use the best stones, pearls leather and precious metals we can find, making each piece unique and uniquely matched to our client. Designing for ready to wear lines and bespoke, pieces give us a great deal of satisfaction and present different opportunities and challenges. In ready to wear, we have more freedom to design through any inspiration we may have, whereas bespoke pieces are geared to a specific person. On the other hand, we often have an opportunity to use more unique and exquisite gems for bespoke pieces than for ready to wear.