January 6th 2017 12:41 pm | by Gemme Couture | Posted in Blog
So you are January's child? Capricorn or Aquarius maybe? Then your birthstone is the magic Garnet! Read on to find out more about it.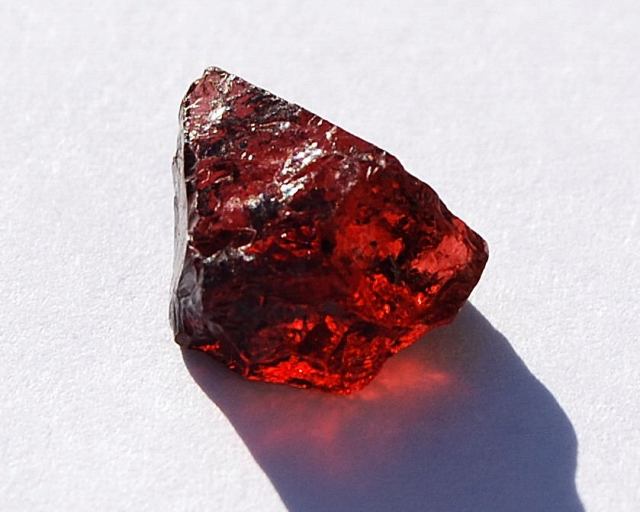 Raw Tanga Garnet – it is a beautiful pink-red garnet that displays a peachy orange flash when cut.  Tanga Garnets are not specific kind of Garnet. Only Garnets mined in Tanzania are called this.
The word garnet comes from the 14th‑century Middle English word gernet, meaning 'dark red'.
"By her who in this month is born
No gem save garnets should be worn;
They will ensure her constancy,
True friendship, and fidelity."
— Gregorian birthstone poem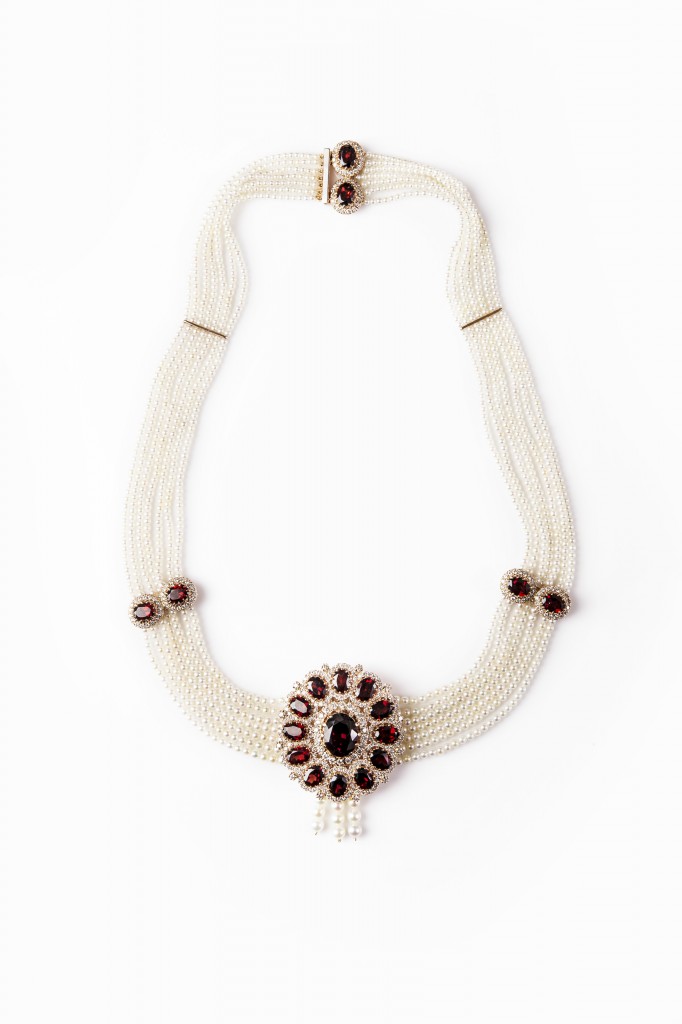 Gemme Couture multiple pearl strand necklace made of natural Bahraini pearls from the Arabian Gulf, with Rhodolite and Malaya garnets and diamonds.
Garnet was also consistently designated as the gemstone for the month of January in the ancient Roman, Italian, Polish, Russian, Hebrew, Arabic and old Hindu calendars. Even though Garnet is the birthstone of January, its stunning variety of colors and mystical powers people believed it has, made it a perfect gift. That's why Garnet has been gifted throughout centuries to the loved ones, for all kind of occasions.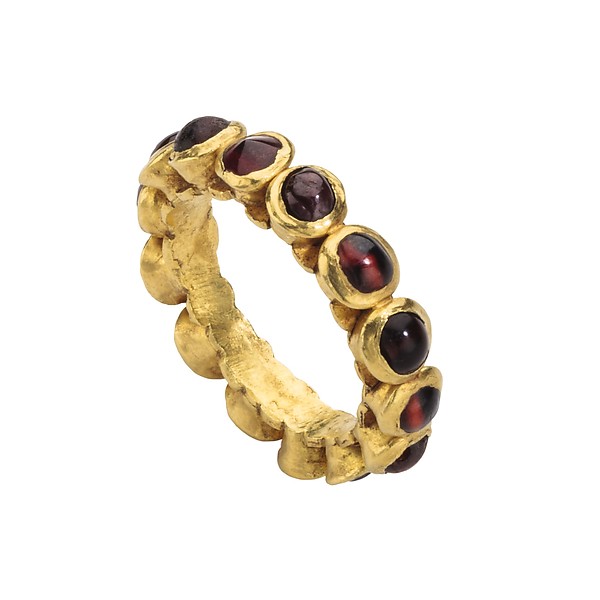 4th century Roman gold and garnet ring, Metropolitan Museum of Art, New York.
The King of Saxony is said to have had a garnet of over 465 carats. Plato had his portrait engraved on a garnet by a Roman engraver.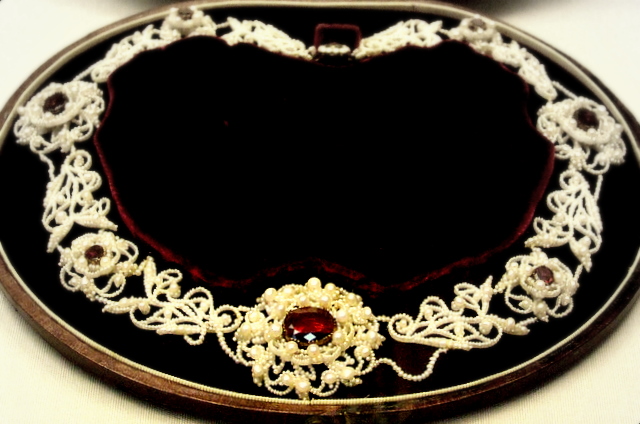 Seed pearl and garnet necklace, British Museum, early 19th c.
Bohemia, now a part of Czech Republic, was once a tremendous source of garnet. Many Bohemian castles and churches had magnificent interiors decorated with garnet. Bohemian garnets are famous even today, known for their small but beautiful stones set close to each other resembling a pomegranate. This ensures that the attraction of the classical Garnet pieces is caused only by the beauty of its stones.
Bohemian garnet earrings and pendant
Garnet is a valuable gemstone that has been cherished since antiquity. Despite the fact that the Garnet is most expensive in its green variety called demantoid, garnet is most commonly a red gemstone.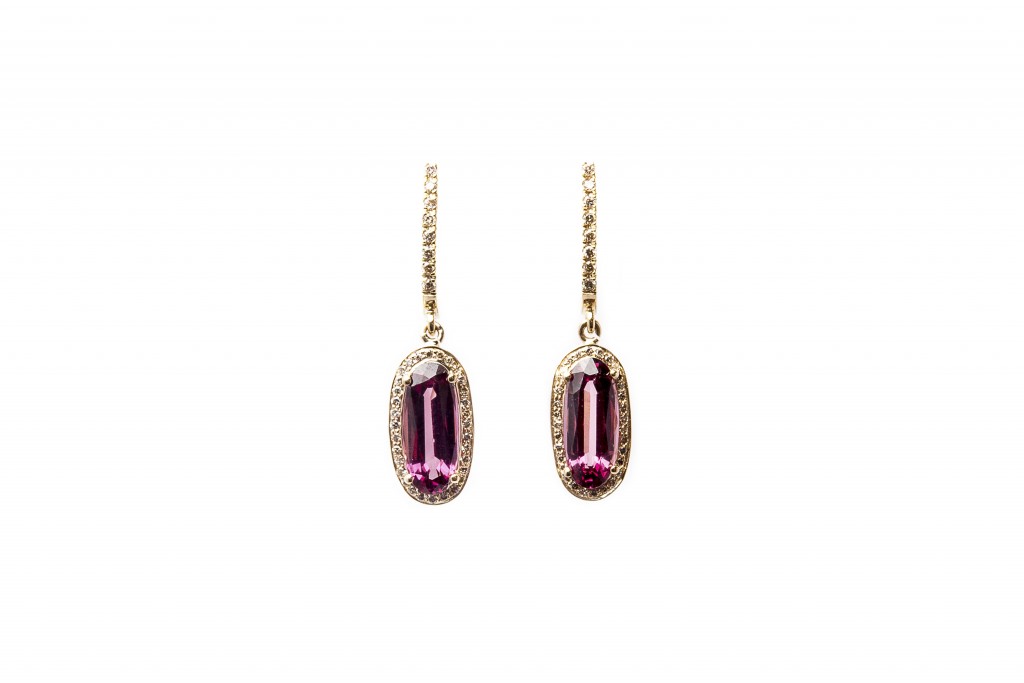 Gemme Couture Garnet and diamonds earrings
Legend says that Garnets light up the night and protect their owners from nightmares. Garnets have also been carried for centuries, by travelers, to protect them against accidents when they are far away from home.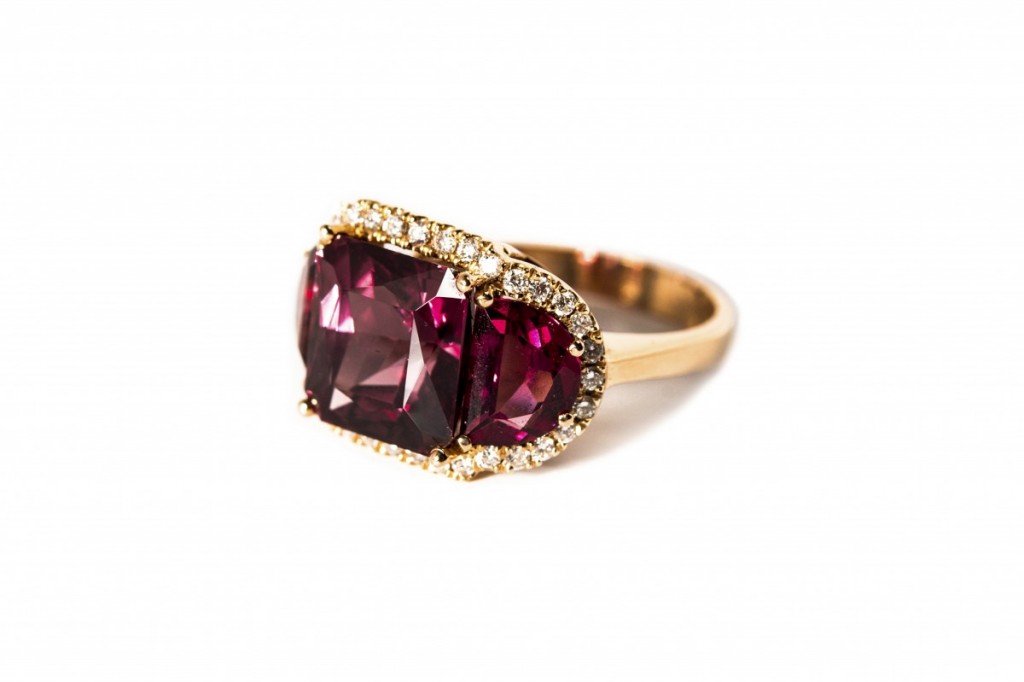 Magic Times Color Change Garnet Diamond Ring from Gemme Couture
This January birthstone is believed to bestow strength and protection. It is also regarded as a symbol of friendship, exchanged between friends to express affection, and in the hope that they would meet again in the future.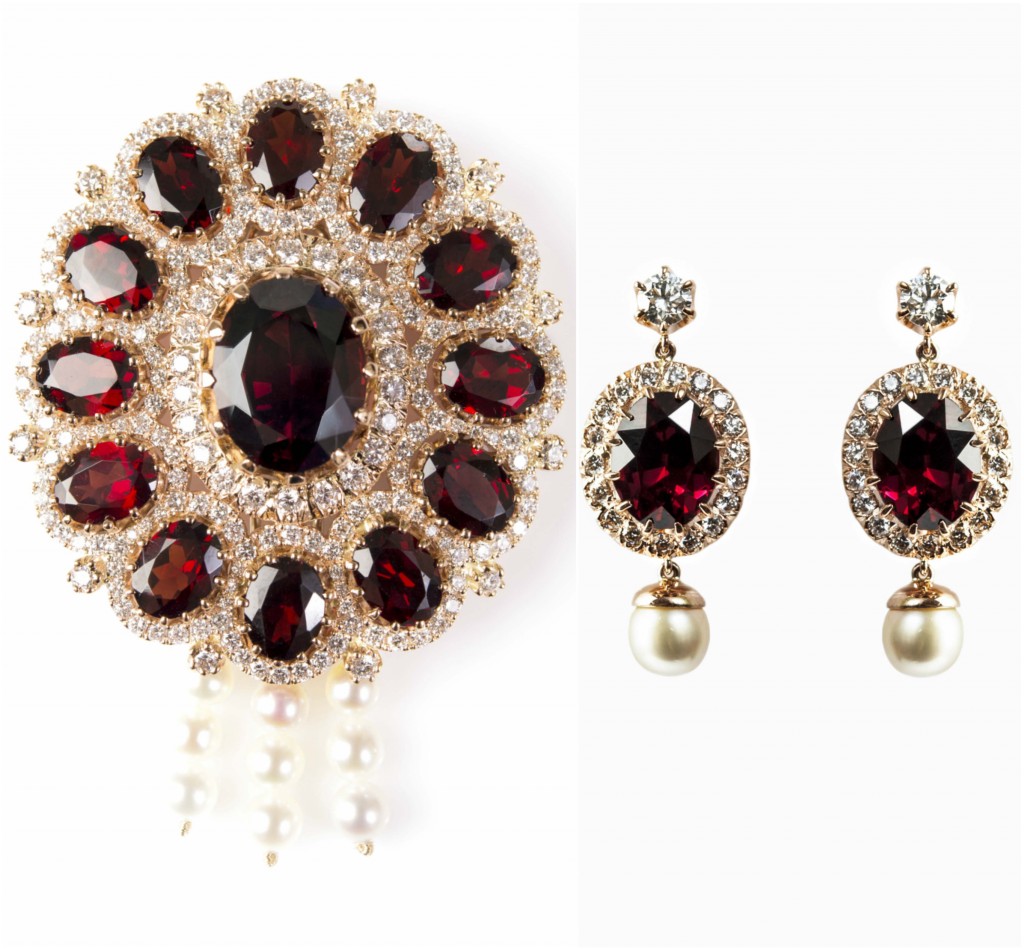 A lovely Gemme Couture Garnet Brooch and earrings with diamonds and pearls
This gem is available in a rainbow of colors, from the deep red Bohemian Garnet to the vibrant greens of the Russian Demantoid and African Tsavorite. We also see it appearing in the oranges and browns of Spessartite and Hessonite from Namibia and Sri Lanka and the subtle pinks and purples of Rhodolite garnet.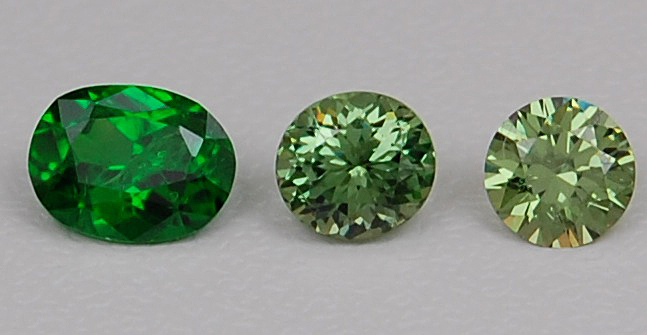 Russian Demantoid (left) is sourced from the Ural Mountains. This locality has produced some of the finest and best known demantoids.  Other known sources for demantoids are Namibia (right) and Madagascar (center).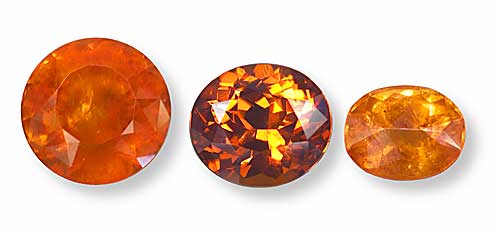 The three most important sources of spessartite garnet. From left, a mandarin garnet from Namibia, a spessartite from Nigeria, and a spessartite from the Little Three mine at Ramona, CA
Garnets are quite tough and durable, though the hardness depends on the type of garnet. For example, Demantoid garnets are softer than Spessartite and Tsavorite garnets. So the proper care for garnets includes protecting them from hard blows, which could damage them.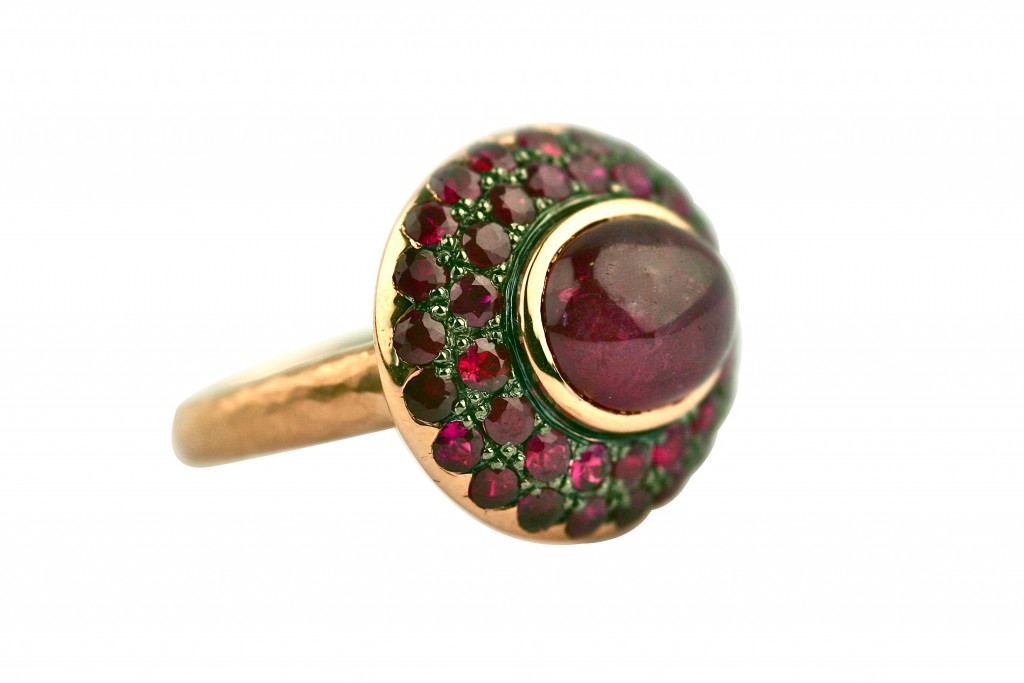 Gemme Couture Garnet ring
Many famous ladies love garnet jewelry, including Jennifer Carpenter, Sofia Vergara, Julia Ormond, Minka Kelly, Selena Gomez and Jessie J.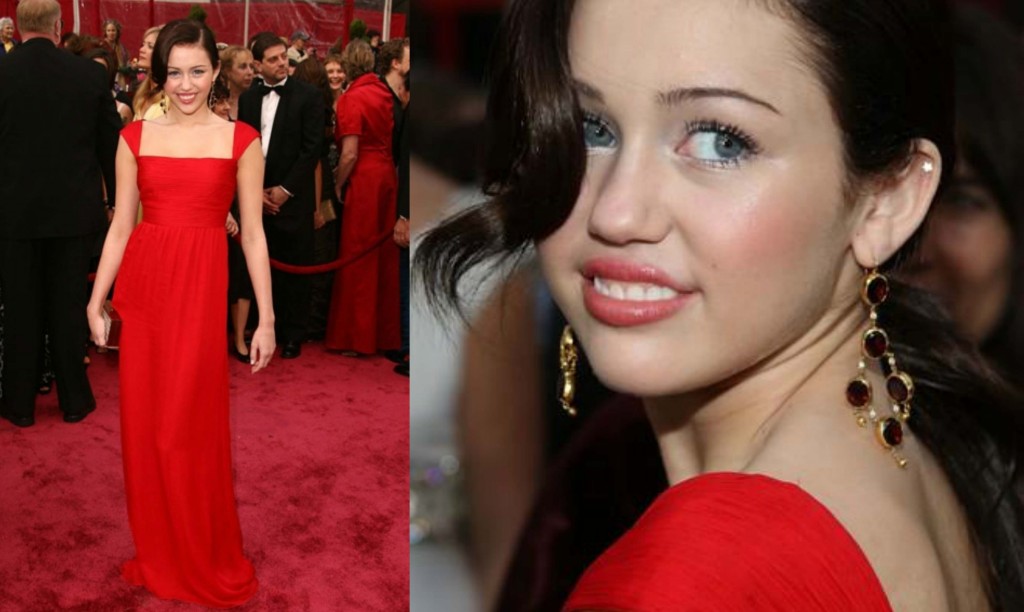 Miley Cyrus and Sofia Vergara wearing garnet earrings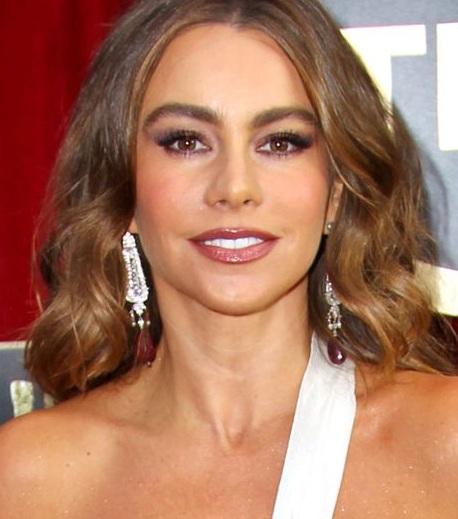 Jackie Kennedy and her garnet diamond brooch
It is also said that Garnet was one of Queen Victoria's favorite stones.
So all of you January born ladies out there you have a gemstone that you can cherish. Find the perfect piece of jewelry with garnet stone and wear it with pride!