September 9th 2015 9:13 am | by Gemme Couture | Posted in Blog
When Abbi and I stumbled across an abandoned floor at the Media One Hotel we just knew that we had to create a shoot for this perfectly blank canvas. A raw industrial loft space filled us both with sheer joy; so 'un-Dubai' with it's bare walls and stark surroundings.
I wanted to add a botanical edge to the empty space and with the help of Firenze Flora I had an abundance of green textures to create a large arch and a dominant centrepiece for the table. The table was styled with simple elegance in mind using tableware from my new boutique rental inventory and finished off with Ghost Chairs from Party Social who also loaned us their magnificent LOVE sign. Our table plan was styled using potted plants from Concrete Candy which complemented the space perfectly.
The botanical theme was carried on throughout our custom made stationery and exquisite cake. The abundance of beautifully designed paper goods were all thanks to the wonderful Dubai based Pret a Papier. The wedding cake was created by Sugarology and featured a marble (cue sigh) base and handmade flowers.
Our beautiful real life couple were an absolute joy to work with and their love for one another was captured so beautifully by Abbi.
Our handsome groom was incredibly dapper in his suit and you may experience some serious 'beard love', well Abbi and I did anyway. We opted for two outfits from House of Moirai for our bride, an elegant blush dress which contrasted against the space beautifully and a chic two piece which matched the contemporary feel for the space. Elegant jewels from Gemme Couture provided the perfect finishing accessories.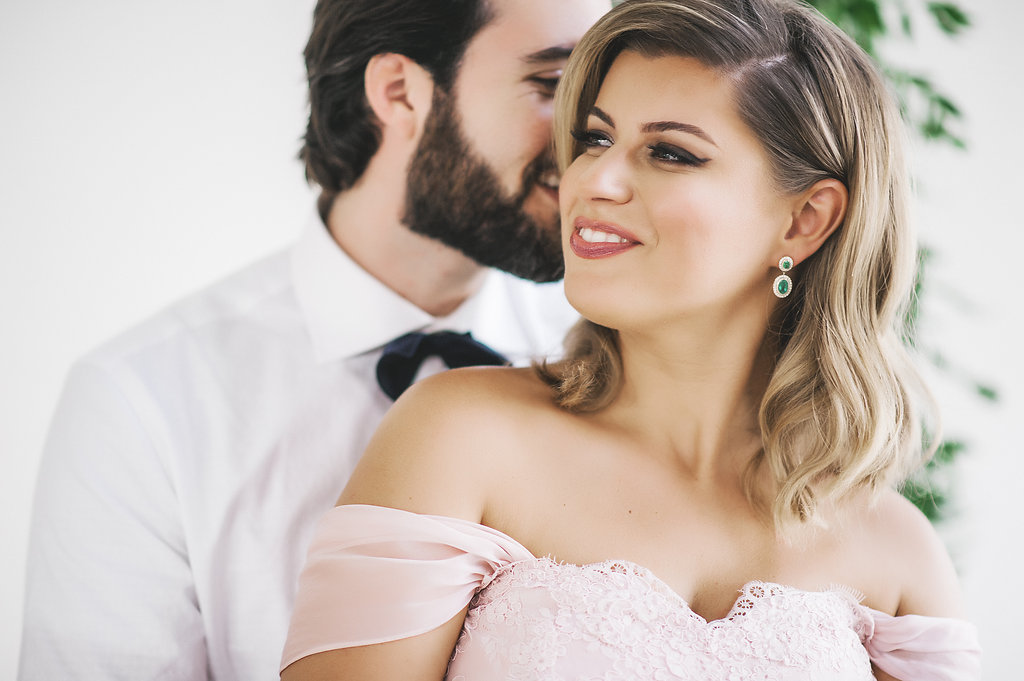 Our make up artist Angelique Turner highlighted Brittany's natural beauty and made her beautiful eyes pop. She also loaned us her absolutely incredible D&G shoes from her own wedding day, which, if you're anything like me will have you coveting your own pair.
Finally a bespoke crown was created by Megan from ANAQA who can create just about anything with her talented hands. It was the perfect addition of contemporary cool and a little bit of extravagance for our second look.
For me, this shoot demonstrates that beautiful textured greenery and a simple but elegant vision is sometimes all you need to transform a venue….and the help of some of Dubai's best wedding vendors of course. It is also a wonderful celebration of two happy people very much in love. All beautifully captured by Abbi.
To see the full blog post visit Lace in the Desert