May 1st 2015 9:23 am | by Gemme Couture | Posted in Blog
With its striking bluish green color Emerald, a variety of Beryl, is both magical and alluring. A Beryl becomes an Emerald depending on how much chromium it contains (its trace elements are both vanadium and chromium). The Emerald color is so special that specialists and dealers often argue over whether the depth of color a green Beryl has actually allows it to be given the prestige of being called an Emerald.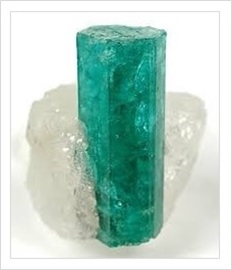 Adored for Centuries by royalty and clergy, Emerald has adorned crowns and exquisite pieces of jewellery that could only be afforded by the very elite.
The name Emerald originates from the ancient Greek word for green, "smaragdus." For centuries it has been viewed as the most royal of greens, the greenest of the green, lush and soothing. It is used to describe the beauty of green and the most beautiful of green landscapes, such as Ireland, the Emerald Isle or Seattle being named the Emerald City.
It's history is truly ancient, having first being recorded as being mined in Egypt as early as 330 BC into the 1700s. Of course the renowned Egyptian beauty and Queen Cleopatra is said to have adorned herself in them. The Incas also prized Emeralds and used them both in jewellery as well as in religious ceremonies. Colombian Emeralds are now known for their unique and precious beauty, often fetching the highest prices. It was the Spanish explorers who initially took Emeralds back to Europe and Asia, which then captured the attention of royalty. Zambia is now the largest producer of Emeralds.
Historically Emerald was seen as so precious that it contained such powers that would allow the wearer to see into the future, protect from evil and reveal an unfaithful lover. Emerald is the birthstone for May, which is very apt considering its link to lush green and lushness. For those of you who are romantic, it is the gemstone for twentieth and thirty-fifth wedding anniversaries.
The most famous cut for an Emerald is of course the Emerald cut which demonstrates its color perfectly. It can however be cut into a cabochon or any other faceted cut.
Gemme Couture works with all gem stones and sees the exquisite beauty in each one. We pride ourselves on highlighting the color and individual beauty of each stone we work with, highlighting its beauty and magic.
Some of our favorite Emerald pieces are our rose cut Emerald earrings, which are delicately surrounded by Brown Diamonds and set in 18K Gold. These stunning Emerald earrings are designed to be worn with either a ball gown or jeans and a t-shirt. They are just intoxicatingly beautiful and would look absolutely stunning on any woman lucky enough to wear them. If you like a white diamonds and a smaller Emerald, our delicate and pretty Candy Earrings with Emerald set in Diamonds on 18K Gold are ideal. Just enough Emerald to pop out and more than enough bling to sparkle.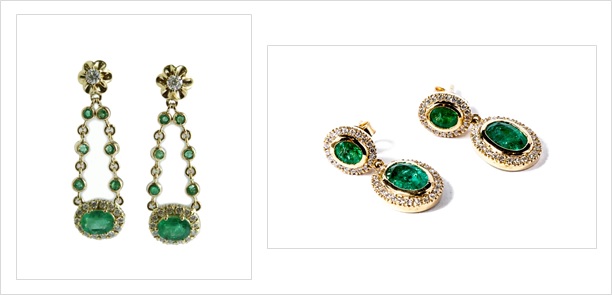 As mentioned above, Emeralds are the birth stone for May and 25th and 35th wedding anniversary gifts. Our Candy Collection ring with Emerald and Diamonds set in 18K Gold, is so wearable and would be ideal for a beautiful birthday or anniversary gift.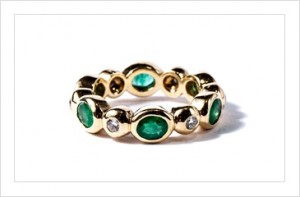 If you are a lady who loves high design and is not afraid to be bold with your jewellery, this necklace with an exquisitely Carved Emerald Pendant and Ruby Tassel floating out of beautiful little White Diamonds on a long 18K, delicate Gold Chain is just perfect. I imagine this with a fashionable low cut dress or plain silk top.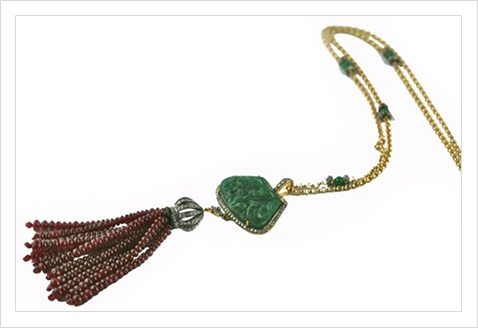 For Emeralds which are more fun and flirty, less dramatic, we adore our Gemme Couture necklace with Emeralds, Sapphires and Fresh Water Pearls, which are clustered together beautifully and delicately on and 18K Gold Wire.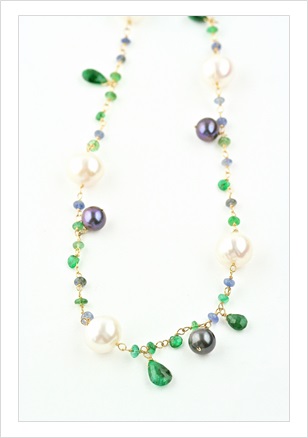 We hope you see the beauty and magic in each of these pieces and the range of design we are able to provide. We have something beautiful for everyone and in every stone.